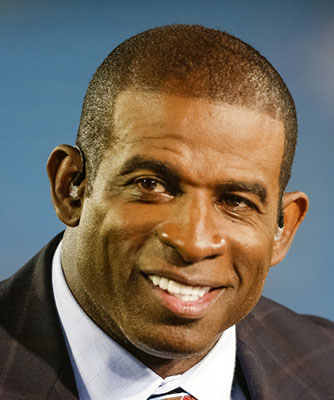 Deion Sanders
Head Football Coach, Jackson State University
Deion Sanders has always been a game-changer. In his tenure as Head Football Coach of Jackson State University, Sanders has again changed the game for the Tiger Football, the Department of Athletics, the University as a whole, the Southwestern Athletic Conference, College Football, and the Nation.
An unprecedented calendar year of 2021 showed the power of the influence of Sanders and the brand of Jackson State University coming together as one, seemingly in perfect alignment.
As the Southwestern Athletic Conference played a spring 2021 football season due to the coronavirus, the number 21 Sanders donned on his way to a Pro Football Hall of Fame career became immersed at JSU.
Sanders, named as the 21st head coach in the proud history of JSU football on September 21, 2020, led the Tigers in his first game as head coach on February 21, 2021. A 53-0 win began the Coach Prime era that was a touch point of the elevation of JSU football and the University into becoming one of the most impactful and recognizable brands nationwide.
With viewership for the first two games surpassing more than 200,000 online views on ESPN3, the power of Coach Prime and JSU transformed the network and led to the final four contested games of the spring season televised on linear television on ESPN or ESPN2 as JSU posted a 4-3 record.
In Fall 2021, Sanders led Jackson State back to championship glory with a school-record 11-win season and the first Southwestern Athletic Conference football championship since 2007. JSU went undefeated in conference play (8-0) and won nine consecutive games to complete the regular season en route to the SWAC Championship and the program's first-ever berth in the Celebration Bowl.
Jackson State set an FCS record for attendance in Fall 2021, averaging more than 42,000 fans per home game.
Coach Prime was named SWAC Coach of the Year and the FCS Eddie Robinson National Coach of the Year. Freshman QB Shedeur Sanders shone brightly in the national spotlight as his father, as he was named as the FCS Jerry Rice Freshman of the Year after passing for 3,231 yards and 30 touchdowns with only eight interceptions.
A fierce advocate for additional exposure and a level playing field for all Historically Black Colleges and Universities, Sanders has continued to push for opportunities to highlight talent in the SWAC and across the culture. In March 2022, Sanders held a Pro Day featuring athletes from four other schools in the state of Mississippi to provide a platform in front of 22 NFL teams and the Canadian Football League. In April 2022, Jackson State became the first HBCU to have its spring football game televised live nationally on ESPNU.
The influence of Coach Prime has directly impacted Jackson State football, as several of the nation's best players have made their way into the program. University of Florida transfer James Houston IV was a dominant player for JSU in 2021, earning All-SWAC and All-America accolades as he ranked second in the nation in both sacks (16.5) and tackles for loss (24.5). In Spring 2022, Houston became the 100th NFL Draft selection in the illustrious history of the Jackson State University football program, selected in the sixth round by the Detroit Lions.
Houston was one of six Tigers to earn a professional football opportunity in the NFL or CFL. CB C.J. Holmes and TE Kyland Richey (New Orleans Saints), WR Keith Corbin (Buffalo Bills), CB Al Young (New York Giants), and WR Warren Newman (Montreal Allouettes) all signed pro contracts.
In December 2021, wide receiver / cornerback Travis Hunter, the top high school prospect in the nation, signed a national letter of intent with Jackson State football and enrolled at JSU in spring 2022.
In partnership with Barstool Sports, "Coach Prime," a behind-the-scenes documentary highlighting the student-athletes, coaches, and staff of JSU Football and Jackson State University, averaged nearly 400,000 views per show in 12 episodes over two seasons.
An eight-time Pro Bowler, nine-time All Pro, and two-time Super Bowl champion, Sanders played 14 NFL seasons for the Atlanta Falcons, San Francisco 49ers, Dallas Cowboys, Washington Redskins, and Baltimore Ravens. Sanders, who also played nine seasons of Major League Baseball with the New York Yankees, Atlanta Braves, San Francisco Giants, and Cincinnati Reds, is the only athlete to play in both a Super Bowl and a World Series.
Among his accolades, Sanders set an NFL record with 19 return touchdowns in his career and was the NFL's Defensive Player of the Year in 1994.

A two-time All-American at Florida State, Sanders was the first-round draft choice of the Atlanta Falcons in 1989. In 2020, for the NFL's 100th Season, Sanders was named to the NFL All-Time Team.
In 2011, Sanders was inducted into the Pro Football Hall of Fame. In that same year, Sanders was also inducted into the National Football Foundation's College Football Hall of Fame.
Sanders began his broadcasting career with CBS, co-hosting the NFL Today pregame show from 2001-2003. He spent the next 14 years as an analyst for the NFL Network, headlining popular shows like GameDay Prime and Thursday Night Football.

Prior to leading Jackson State, Sanders had been coaching for over a decade. Sanders was the offensive coordinator at Trinity Christian School in Cedar Hill, Texas, leading the Tigers to three-straight Texas Association of Private and Parochial Schools (TAPPS) titles and a 42-3 record. Sanders has also been part of the coaching team for the annual Under Armour All-America Game for the past decade. In February 2022, Sanders was named as an HBCU legacy coach for NFL Pro Bowl.
Success – both on the field and in the classroom—has always been at the forefront for Sanders. In 2007, upon retirement from the NFL, Sanders founded TRUTH, a youth organization serving over 1,100 kids throughout Dallas, Texas and Memphis, Tennessee, utilizing sports and education as a platform for success and leadership.
Following through on a long-standing goal, in 2020, Sanders graduated from Talladega College with a bachelor's degree in Business Administration with an emphasis in Organizational Management.
He is the proud father of five children: sons Deion Jr., Shilo, and Shedeur, and daughters Deiondra and Shelomi. Jackson State is a family affair for Coach Prime, as sons Shilo (safety) and Shedeur are both starters on the JSU football team, while Deion Jr. oversees the social media engagement. His youngest daughter Shelomi is an incoming freshman on the JSU women's basketball team.
Deion Sanders continues to be represented by Constance Schwartz-Morini at SMAC Entertainment and Tabetha Plummer of Plummer Law Group. Jordan Bazant of WME was instrumental in the development of this partnership.