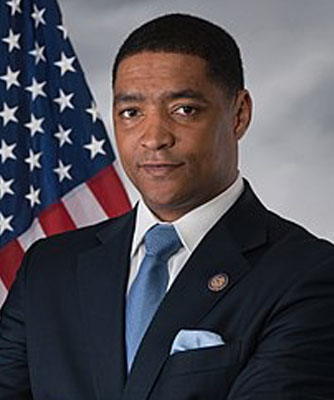 The Honorable Cedric L. Richmond
senior advisor to the president and director of the White House Office of Public Engagement
Cedric Levan Richmond (born September 13, 1973) is an American attorney, politician, and political advisor who served as a senior advisor to the president and director of the White House Office of Public Engagement in the Biden administration. A member of the Democratic Party, he was the U.S. representative for Louisiana's 2nd congressional district from 2011 to 2021. His district included most of New Orleans.
From 2017 to 2019, Richmond served as Chairman of the Congressional Black Caucus. Beginning with his third term, he was the only Louisiana Democrat serving in either chamber of Congress. He served as State Representative from New Orleans to the Louisiana State House from 2000 to 2011. In 2019, he was named the first national co-chairman of the Joe Biden 2020 presidential campaign. On September 5, 2020, he was named a co-chair of Biden's presidential transition. On November 17, 2020, Richmond announced he would leave Congress in January 2021 to serve as Senior Advisor to the President and director of the Office of Public Liaison.
In 2010, Richmond was elected to the US House of Representatives from Louisiana's 2nd congressional district for the first time. He took office in 2011. He was reelected in 2012, 2014, 2016, 2018, and 2020.
On June 9, 2014, Richmond introduced the Honor Flight Act (H.R. 4812; 113th Congress), a bill that would direct the Transportation Security Administration (TSA) to establish a process for providing expedited and dignified passenger screening services for veterans traveling on an Honor Flight to visit war memorials that had been built to honor their service.
That year Richmond defended his Republican colleague Vance McAllister, who had become embroiled in an alleged adultery scandal. It was a rare across-the-aisle gesture. Richmond said that he associated the controversy around McAllister with "gotcha moments" in which the "two parties in this country have gone overboard…and taken joy in the pain of their supposed opponents".
Richmond was one of a few Democrats who voted to authorize the Keystone XL pipeline. He is the fifth-biggest recipient of money from fossil fuel donors among House Democrats. The League of Conservation Voters gave him one of the lowest ratings for any Democrat in Congress.
Richmond has been active in the Congressional Black Caucus, made up of African-American legislators who work together to have their views heard. On November 30, 2016, he was elected chair of the caucus for the 115th United States Congress.
On December 18, 2019, Richmond voted to impeach President Donald Trump.
Richmond was a national co-chair of the Joe Biden 2020 presidential campaign. On November 17, 2020, he announced that he would join the Biden administration as Senior Advisor to the President and director of the White House Office of Public Liaison. His resignation became official on January 15, 2021. His departure triggered a 2021 special election.[33] Justice Democrats criticized Richmond's appointment, alleging that he was one of the top Democratic recipients of donations from the fossil fuel industry.
In an interview before Biden's swearing-in, Richmond noted his potential work in reaching out to conservatives in different parts of the country. Richmond was reportedly working with the Biden administration on addressing reparations for slavery.
Richmond resigned from the White House on May 18, 2022.