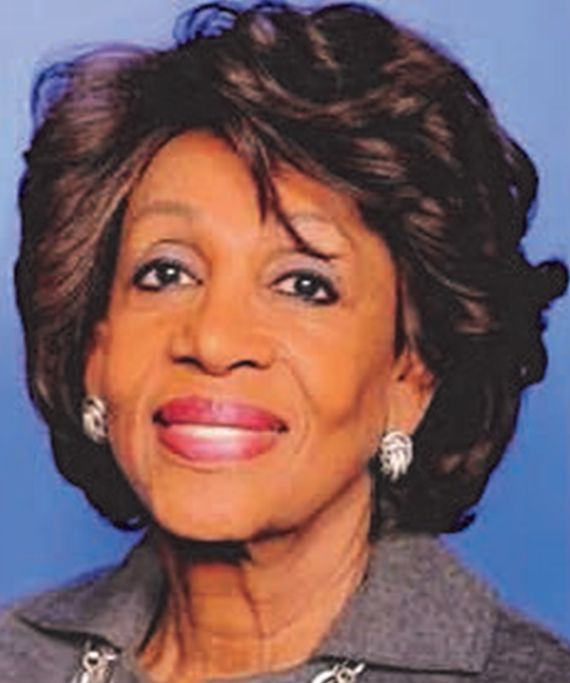 The Honorable Maxine Waters (D-CA)
Congresswoman (D-CA) 43rd District
Congresswoman Maxine Waters is considered by many to be one of the most powerful women in American politics today. She has gained a reputation as a fearless and outspoken advocate for women, children, people of color and the poor.
Elected in November 2016 to her fourteenth term in the U.S. House of Representatives with more than 76 percent of the vote in the 43rd Congressional District of California, Congresswoman Waters represents a large part of South Central Los Angeles including the communities of Westchester, Playa Del Rey, and Watts and the unincorporated areas of Los Angeles County comprised of Lennox, West Athens, West Carson, Harbor Gateway and El Camino Village. The 43rd District also includes the diverse cities of Gardena, Hawthorne, Inglewood, Lawndale, Lomita and Torrance.
Congresswoman Waters serves as the Ranking Member of the House Committee on Financial Services. An integral member of Congressional Democratic Leadership, Congresswoman Waters serves as a member of the Steering & Policy Committee. She is also a member of the Congressional Progressive Caucus, and member and past chair of the Congressional Black Caucus.
Throughout her 37 years of public service, Maxine Waters has long been highly visible in Democratic Party politics and has served on the Democratic National Committee (DNC) since 1980. She was a key leader in five presidential campaigns: Sen. Edward Kennedy (1980), Rev. Jesse Jackson (1984 & 1988), and President Bill Clinton (1992 & 1996). In 2001, she was instrumental in the DNC's creation of the National Development and Voting Rights Institute and the appointment of Mayor Maynard Jackson as its chair.
Throughout her career, Congresswoman Waters has been an advocate for international peace, justice, and human rights. Before her election to Congress, she was a leader in the movement to end Apartheid and establish democracy in South Africa. She opposed the 2004 Haitian coup d'etat, which overthrew the democratically-elected government of Jean-Bertrand Aristide in Haiti, and defends the rights of political prisoners in Haiti's prisons.
Expanding access to health care services is another of Congresswoman Waters' priorities. She spearheaded the development of the Minority AIDS Initiative in 1998 to address the alarming spread of HIV/AIDS among African Americans, Hispanics and other minorities. She is also the author of legislation to expand health services for patients with diabetes, cancer and Alzheimer's disease.
Congresswoman Waters has led congressional efforts to mitigate foreclosures and keep American families in their homes during the housing and economic crises, notably through her role as Chairwoman of the Subcommittee on Housing and Community Opportunity in the previous two Congresses. She authored the Neighborhood Stabilization Program, which provides grants to states, local governments and nonprofits to fight foreclosures, home abandonment and blight and to restore neighborhoods.
Maxine Waters was born in St. Louis, Missouri, the fifth of 13 children reared by a single mother. She began her career in public service as a teacher and a volunteer coordinator in the Head Start program.